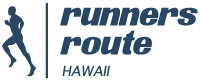 Largest Running Specialty Store in Hawaii
Aloha,
Runners Route was founded in 1983 in Pearl City, Oahu, Hawaii.
Many athletes in Hawaii because of the climate and natural beauty of the islands.
Runners Route was founded to support Hawaii's local runners.
In the 1990s, Runners Route moved from Pearl City to the now-defunct Ward Warehouse.
With the move to Honolulu, we were able to serve more local runners and visitors from around the world.
In addition, we are active every year at the Honolulu Marathon Expo with our own booth that helps the over 30,000 runners get ready for the race day.

From Hawaii to the World
Nowadays, running shoes can be conveniently purchased online, but Runners Route still has a mission in Hawaii.
We are here to help you find the right shoes to meet your needs and accommodate all levels of running.
In addition to shoes, we will produce original apparel and accessories that can only be purchased at Runners Route, and we will communicate the new Runners Route to the world with runners from all over the world as our customers.
In our stores, Runners Route is committed to providing the highest quality service to our customers with a wide selection of products and knowledgeable staff.
Mahalo.
Our Stores
Please enjoy your shopping at our stores!
Opening of our main store
KAPIOLANI STORE
In December of 2006, we moved from Ward Warehouse to our current location at Kapiolani for store expansion.
Conveniently located just a 5-minute walk from the Ala Moana Shopping Center, we have been serving both local and customers from around the world since our opening.
1322 Kapiolani Blvd. Honolulu, HI 96814
1 808 941 3111
Mon - Sat: 10am - 7pm
Sun: 10am - 6pm
Close: Thanksgiving & Christmas Day
going back to where it all began
AIEA STORE
Also, in May 2015, we opened an Aiea store not far from where we started.
With the return to the roots of Runners Route, customers who knew Runners Route back then we're more than happy to go back to were it all began.
This is the kind of local running specialty store we are aiming for.
98-1277 Kaahumanu St.#104 Aiea, HI 9670 (Waimalu Plaza)
1 808 487 3111
Mon - Sat: 10am - 7pm
Sun: 10am - pm
Close: Thanksgiving & Christmas Day